We have a lot of questions regarding countertop materials and options.  You do not have to stop at a man made quartz or a natural stone for your counters.  There are amazing and unique counter materials available that can really dress up a kitchen or bathroom and make a statement all on their own.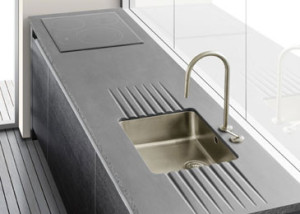 Pyrolave Lava Stone countertop.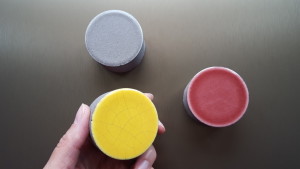 Pyrolave color samples
This durable counter with a built in drain board is a Lava Stone by Pyrolave.  Available in 32 colors in both matte and glossy finishes, this product is created by extracting Volvic lava stone by hand and firing the stone at 1000°C.  The finished product has a slight crackle look and is very unique.  It can withstand very hot pots placed directly on it and will not stain.  As you can see, they can completely customize the product for whatever your needs are (you can even make sinks!).  Check out more at www.pyrolave.fr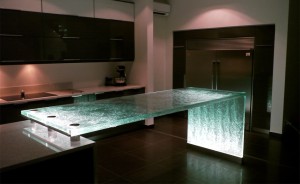 ThinkGlass backlit glass countertop.
Glass can be used for countertops and you can achieve various different looks with it.  You can add in color, metal and patterns and textures.  This glass counter with waterfall edge is by ThinkGlass and looks like ice.  Glass is actually a very strong counter material and is not easily scratched and will not stain.  To see more interesting designs, you can go to www.thinkglass.com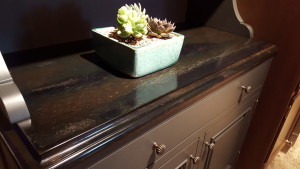 RawUrth Steel countertop available for view at Kitchen Studio.
Cold rolled steel can make an interesting statement in your kitchen.  This counter has a custom edge detail to bring a traditional element to a typically industrial material.  There are a variety of different metals and patinas to fit any décor.  This counter was created by RawUrth, see more of their amazing designs at www.rawurth.com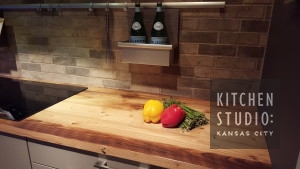 Grothouse Lumber Ash countertop available for view at Kitchen Studio.
This reclaimed Ash wood countertop has a shallow "bowl" carved into the surface to hold fruits and vegetables as you prepare food to prevent things from rolling off of the counter.  The company that created this wood top for us is Grothouse Lumber, and they have a special food safe finish that is so durable they will give you a lifetime warranty.  If you wish to chop directly on the counter, you can opt for the mineral oil finish instead of the permanent finish.  To view more options of wood species and for great ideas, go to www.glumber.com